For Australian ecommerce and retail brands serious about scaling and profits, new markets must form a critical part of their strategy.
Australian is home to some of the most innovative and high-quality brands in the world, with strategic ecommerce growth firm Gallantway attesting to that fact.
From fashion to skincare, electronics to food, Australian brands and their founders have earned a global reputation for excellence in both design and production. And while many of these brands have already achieved success at home, expanding into the US market can provide significant benefits and scale.
Reaching the world's largest consumer market
The US is the world's largest consumer market, with a population of over 331 million people. That's 13x as many customers as Australia and with a diverse demographic, there is a huge demand for a wide range of products.
It is this scale that creates enormous opportunities for Australia brands to expand their customer base and increase their revenue without growing product development costs.
Enhancing brand positioning
Another significant benefit of selling in the US market is the potential for increasing your brand recognition. 
The US is home to some of the world's most influential fashion and beauty businesses, such as Vogue and Allure, as well as major retailers like Sephora and Ulta. By gaining recognition and placement in these influential outlets, Australian brands can establish themselves as leaders in their respective categories.
Managing seasonality and the demographic overlap
It's tough selling swimwear in Winter. But by operation across two seasons a brand can better manage their demand, supply and resources to boost profitability.
Demographic overlay is another reason why the US market is appealing for Australian brands. The US online customer shares significant overlap in their demographics and consumer behaviour to ANZ customers. 
These shared traits make growth more predictable and manageable.
De-risking your home market
Low growth for brands in Australia present increasing risks as local competition and markets mature across all categories.
Diversifying sales through new markets reduces single market risks and creates new opportunities for brands to cross sell customers and increase their revenue.
Leveraging Australian uniqueness and government support
Like all developed markets, the US is a highly competitive market, and this competition is particularly fierce in the retail industry.
However, Australian brands have the distinct advantage of being unique and different from the many American brands already present in the market. By offering something new and exciting, Australian brands will stand out from the rest and attract a loyal customer base.
On top of that, there's also grants to help support founders and their businesses. Austrade's Export Market Development Grant's (EMDG) program helps Australian businesses grow their exports in international markets.
This grant is essentially a cash rebate scheme administered by Austrade, which is available for developing the market for your business in any country overseas (except New Zealand). The grant supports several categories including overseas representative, marketing consultants or agencies, domestic and international trips and a lot more.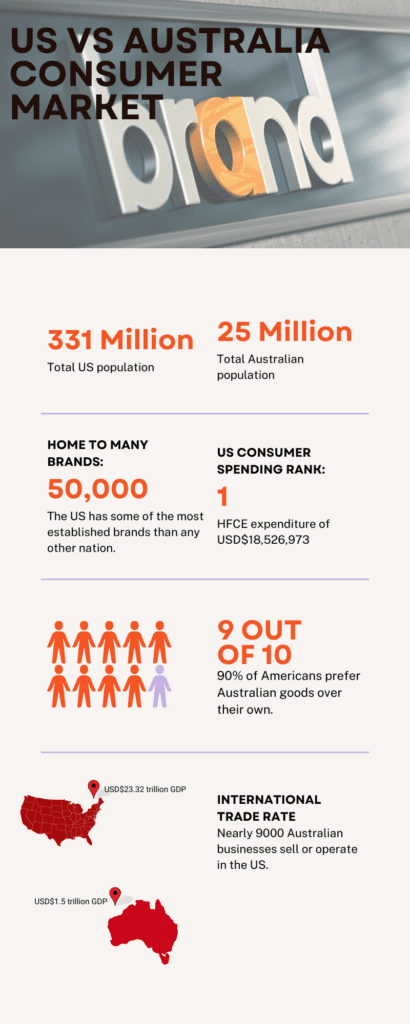 Using a virtual office to support expansion
One method to support your expansion into the US market is by utilising the functionalities of a virtual office. Regardless of where you are in the world, a virtual office can give instantaneous presence in your desired location.
Here's a quick breakdown:
Select an address: a virtual office allows a business to legally register its location at the address of a virtual office provider. For example, you might select 667 Madison Avenue in New York City as your business address. This enables you to use that address on your website legally, which is a great method for building trust in an international market.
Set up your mailing: to ensure you receive any mail sent to that location, simply notify your virtual office provider where they should redirect the mail too. This can be your home address or anywhere you prefer your mail to arrive.
Phone number: a virtual office also provides a local landline number based on your selected location and a local, dedicated receptionist to answer your business calls. The receptionist will answer the calls as dictated by you, and redirect them to your number or any other extension you provide. This adds another layer of having an established image in another country.
The best part is, a virtual office can be set up within minutes and the providers assist in ensuring all legal obligations are complete.
Should your business expand into the US
There are many compelling reasons why Australian brands should consider expanding into the US market. By doing so, the opportunities for tapping into a huge customer base, gaining recognition and prestige is in abundance.
Businesses can also gain access to new customers and manufacturing processes, along with secure investment opportunities. With the right strategy and approach, Australian brands can thrive in the highly competitive US market and achieve long-term success.