In 2020 CBRE, the world's largest commercial real estate and investment firm, released a report titled Global outlook 2030. Whilst it covers a whole range of topics its authors predicted by 2030 more people would be working from home, and the nature of how they worked would change, taking advantage of new technologies that would create a new virtual office.
Then came Covid and mostly everything they predicted came true in just a few years rather than a decade.
Employees were confined to their home during lockdowns but found that they enjoyed working from a home office or dining room table.  Not only were people saving time and money by not having to commute, but they were able to create a better work / life balance. Now that covid is over, many employees are finding themselves reluctant to return to the office. 
Whilst many companies have embraced the hybrid work model, many managers wish more of their staff world come back into the office and for good reason.
Here's a snapshot of why:
–Relationships can grow faster and stronger when employees are physically present.
-Collaboration is deeper and far more likely to happen spontaneously,
-Work happens faster because small questions or grey areas can be resolved faster.
-Employees gain a greater understanding of the company culture, rather than just being a remote contributor.
-Clients can get a much better understanding of your company's culture when they can see your employees working.
But how do manager's entice there staff back? The current answer is "Hotelification".
Hotelification is the latest buzz word in hybrid working world and in simple terms it means that managers need to start looking at their offices in the same way hoteliers look at their establishments. Managers need to consider things like location, amenities and technology. They need to provide a space where employees will want to visit and spend some time. No longer are rows of desks in a white room good enough.
Think of slick coworking spaces that cater for the digitally nomadic millennials and gen Z's. Sitting at the same desk, day in day out doesn't inspire them. The new, younger creative class of workers want spaces that are specifically designed for different tasks. They want an environment that is exciting and dynamic, but can also offer quiet zones for less distraction.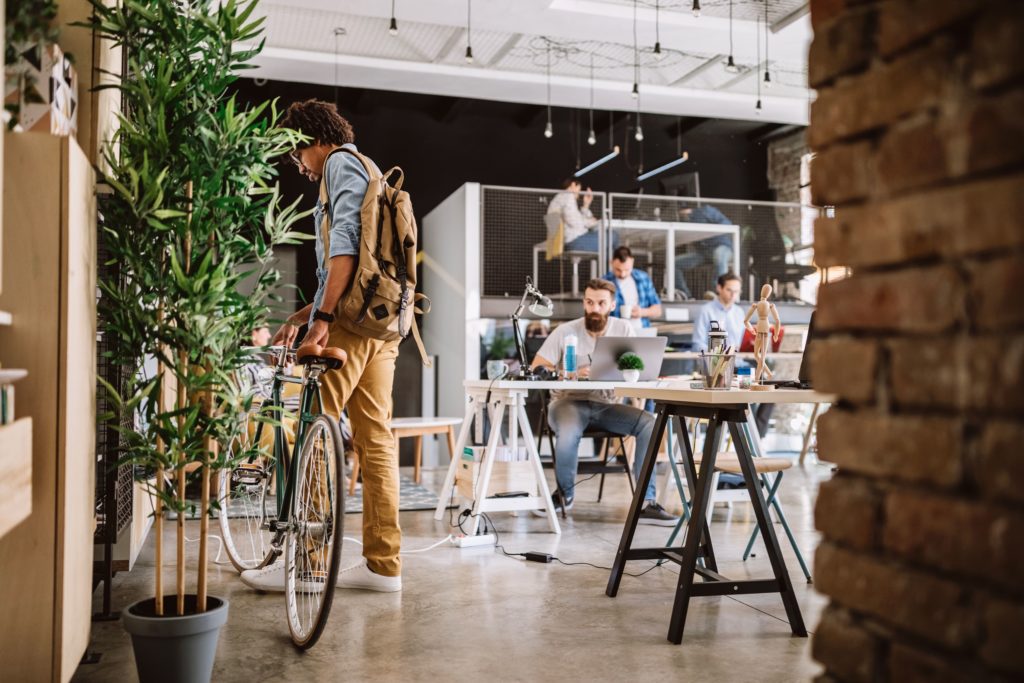 People now want access to amenities like babysitters and gyms, not just free coffee in the kitchen. Having a workplace that is close to public transport, and shops is also now a priority. These features are now being viewed as essential to achieve a good work / life balance.
Biophilic spaces within the office are also becoming desirable in the new-age of office design – the use of natural materials, natural light and plants – these have been proven to lower stress and improve productivity. People like feeling connected to nature, after all, as a species we have spent most of evolutionary history in nature, not in a sterile office.
They want collaborative spaces that increase creativity. Let's face it, one of the main reasons employees will come into the office is to collaborate, so having spaces that facilitate that is a no brainer. A small meeting room with pale walls and a whiteboard is a fairly sterile environment. One of CBRE's longer term predictions is that gradually virtual reality will eliminate the meeting room entirely, and whilst we're not there yet, break out spaces with comfortable lounges are far more likely to inspire the imagination than a whiteboard with a round table.
By now we've all become well acquainted with Zoom, but unique technologies such as 3D printers can compel staff to come into the office as these are resources few of us have at home. Technology is getting ever more integrated into out working lives and staying aware of this is essential to ensure your staff are well connected to the digital age.
Whilst most managers do have the right to dictate where and when their employees work, in order to attract and retain the best talent out there, a company which refuses to move with changes will find it difficult.
 Like it or not, Hotelification is here to stay for now.