When turning over the shoulder to ask a question is no longer an option, collaboration tools have become a necessity for communicating, project management and sharing confidential files.
Now that nearly 80% of workers use collaboration tools for work, it's important to know which software is best for your business. These tools are the threads that weave together a seamless tapestry of communication, project management, file sharing and productivity enhancement for a thriving remote team.
The benefits of team collaboration tools
Team collaboration tools facilitate seamless communication and coordination among team members, regardless of their physical location. These platforms offer real-time messaging, video conferencing, and document sharing, allowing teams to stay connected and informed. This improved communication ensures that everyone is on the same page, reducing misunderstandings and enhancing overall productivity – ultimately, it's a big win for teamwork.
Project management tools establish the who, what, why and when for efficient workflow. It enables remote teams to create, assign tasks, set deadlines and monitor progress, all in one centralized platform. This level of organization and visibility into project status helps teams stay on track and creates transparency on what needs to be done.
When every project is clearly communicated and all documents can be traced back to one source, your overall productivity increases. It's a lifesaver for managers and employees thanks to its streamlining capabilities.
Exploring the different types of remote collaboration tools
Every tool has a unique purpose and tackles a different range of challenges that your daily activities can present. Here are the collaboration software that your remote teams can benefit from.
Communication tools
Sometimes you need quick responses several times throughout the day and an email becomes inefficient. Luckily, there are many communication tools for remote workers and are compulsory for businesses to operate.
Microsoft Teams
One of the most robust and versatile platforms is Microsoft Teams.
The platform features real-time chat and messaging capabilities, allowing team members to have one-on-one or group conversations. Conversations are organized into channels, which can be dedicated to specific projects, teams, or topics.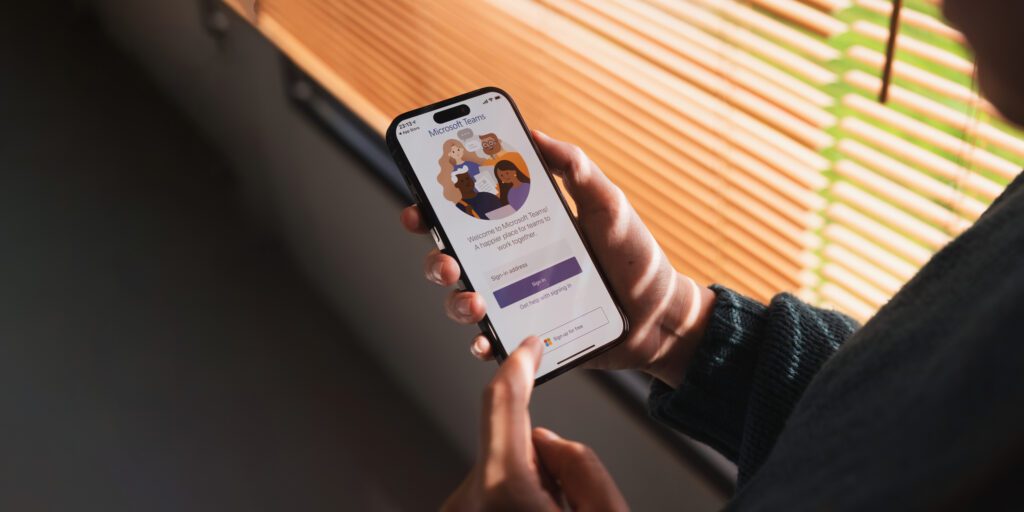 Users can send text messages, GIFs, emojis, and even code snippets within conversations. The chat also supports threaded conversations, making it easy to follow discussions and replies. And if you're looking to streamline operations, then integration with Outlook will allow your remote team to access their email and calendar directly within the Teams interface.
Slack
If you're searching for channel-based communication tools, then Slack is what your remote team needs.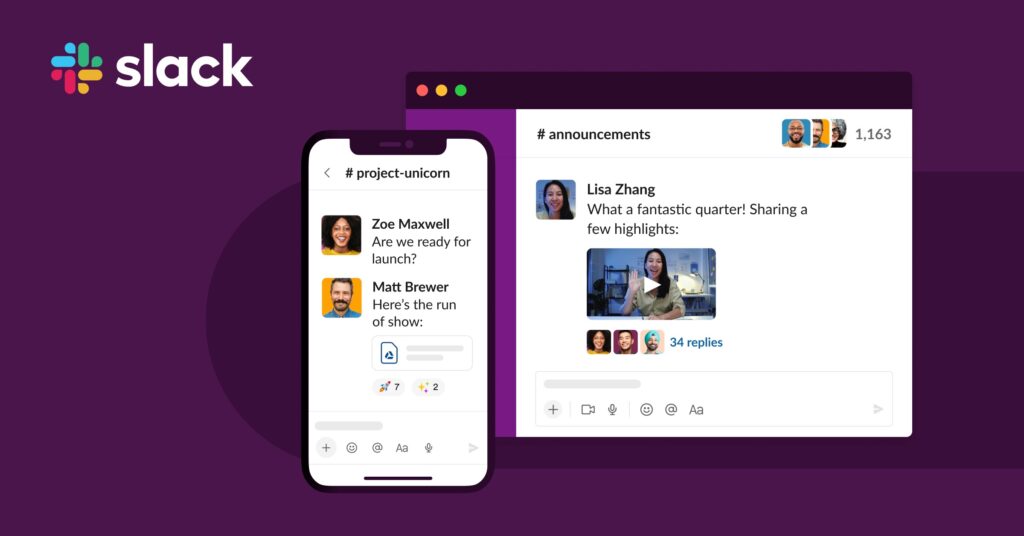 The platform organizes conversations in channels and ensure team members can easily find relevant conversations they need to participate in. You can also make your channels private or restricted on Slack and the application has many customization options.
Integration with third-party apps is in abundance with Slack and it's highly-regarded for a friendly user interface.
Zoom
Zoom is a household name when it comes to video conferencing.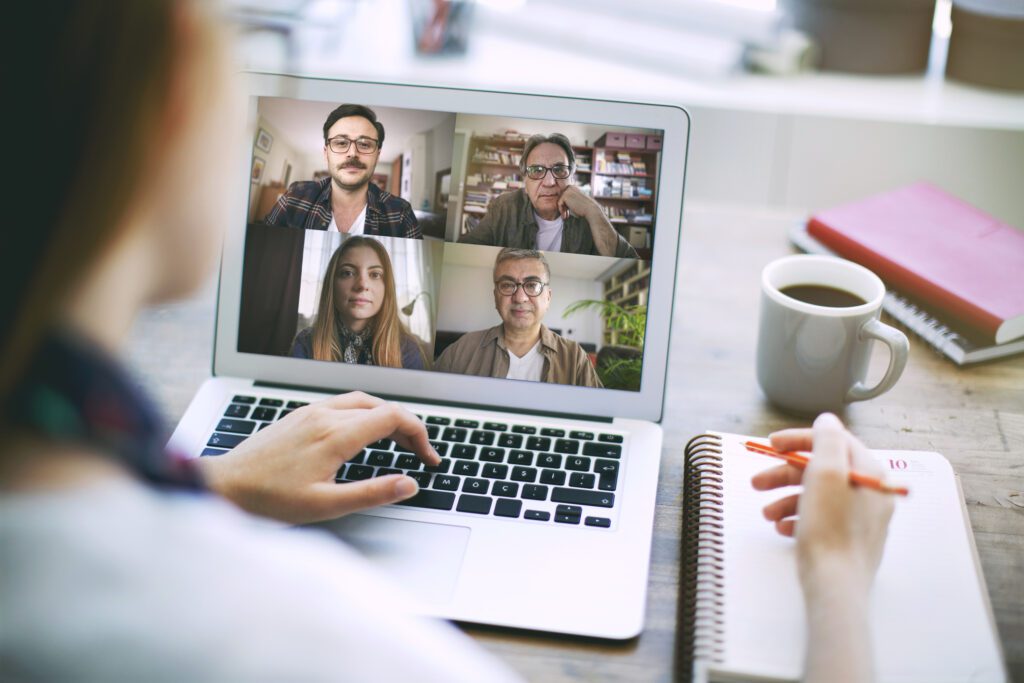 This platform gained tremendous popularity during COVID-19 and has since remained as a go-to choice for remote teams. The application is very secure and has several key features including:
HD video and audio conferencing

Screen sharing and annotation

Webinar capabilities

Integration with other applications
However, remote companies need to consider Zoom's limited features when using the free plan but you will still be able to do audio and video calls.
Project management tools
Every remote team must have project management tools. They're crucial in organizing everything task-related and we've selected three that businesses can easily utilize.
Trello
If your remote team prefers a visual-oriented style of management by using boards, lists and cards, then Trello is the project management software for them.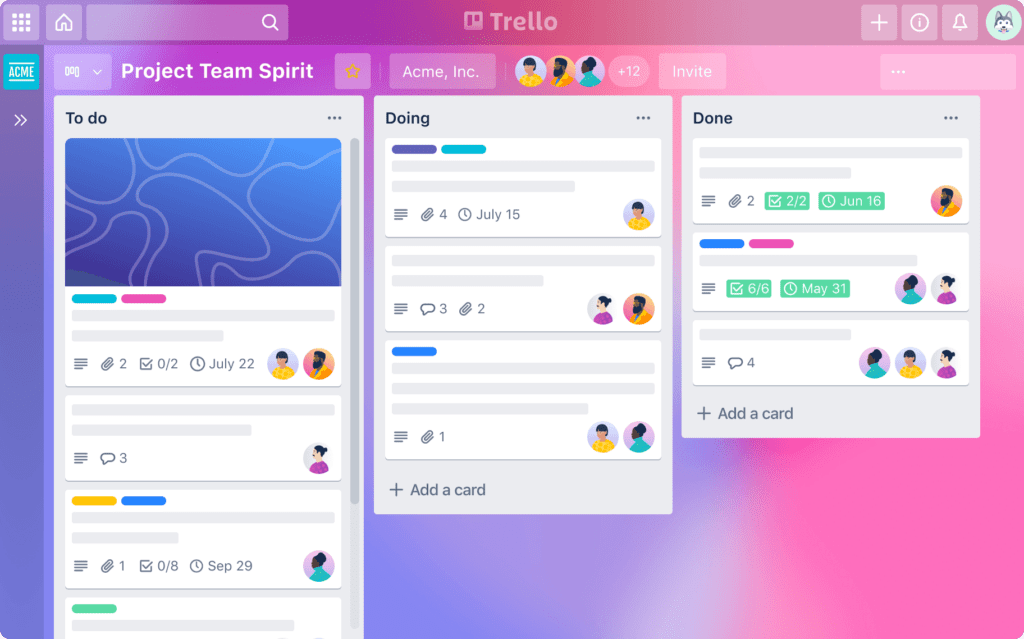 Trello is an intuitive and highly customizable software with drag-and-drop functionality for actioning plans quickly. The project management tool offers all the essentials in its free plan but lacks advanced management features that larger companies often need.
Overall, if you're looking for one of the best online collaboration tools that is free and easy, then opt for Trello.
Asana
Asana is a comprehensive task management platform designed for planning, organization and flawless execution. While it's known to feel overwhelming for new users, those who have pushed past the learning curve understand its effectiveness in start-to-finish management.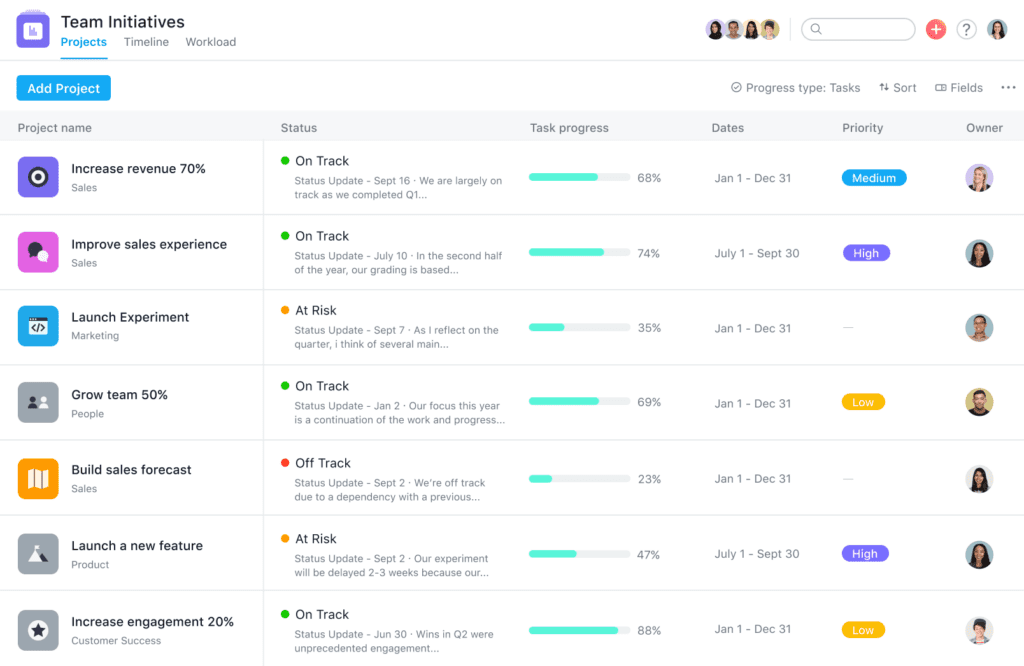 Here's a breakdown of some key features you'll appreciate:
Project tracking

Timeline view for visual planning

Ability to provide instantaneous progress updates

Real-time collaboration

Vast security protocols
Like many modern applications, you won't need to download anything because it's based in the cloud and data is frequently backed up. Keep in mind that your remote teams may need the premium plan to access some advanced features.
Monday.com
This collaboration tool is a work operating system that provides a flexible and visual way to manage projects, tasks and workflows. This is a favorite for remote teams but pricing can be on the higher side for larger teams, so be sure to refer to your budget.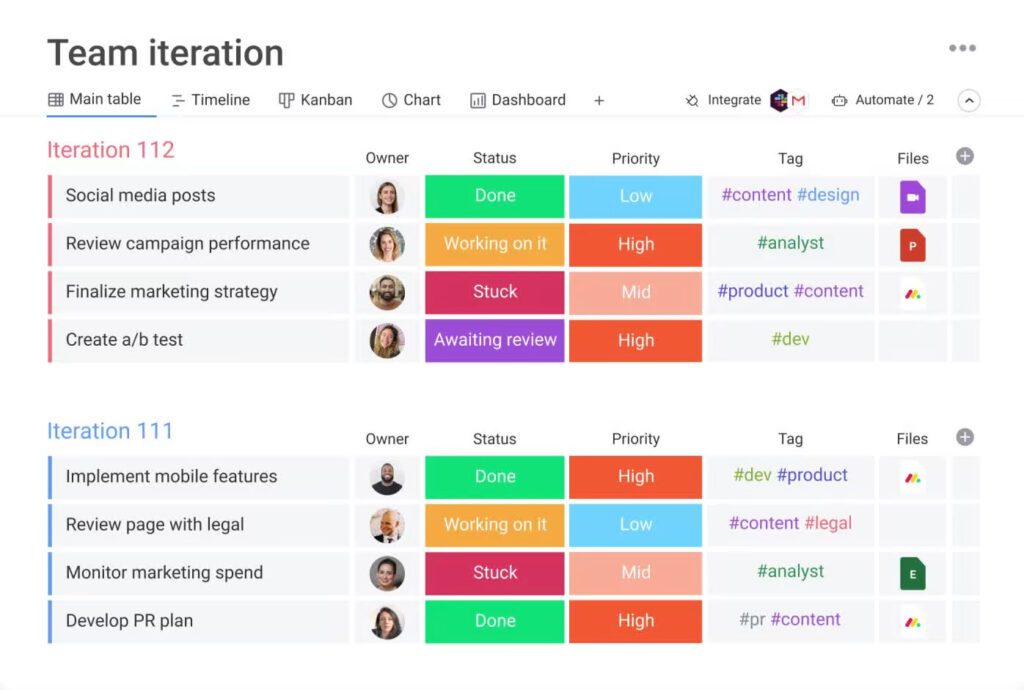 Similar to Asana, it's highly customizable but it also features Kaban, Gantt charts and timelines views for greater visual understanding. You should expect a learning curve when compared to using other collaboration tools.
File sharing and document tools
A pivotal team collaboration software for remote companies is file sharing and documenting tools. Most companies opt for one of the three options below.
Dropbox Business
This platform is particularly valuable for teams that need to access files from multiple devices and collaborate on documents efficiently.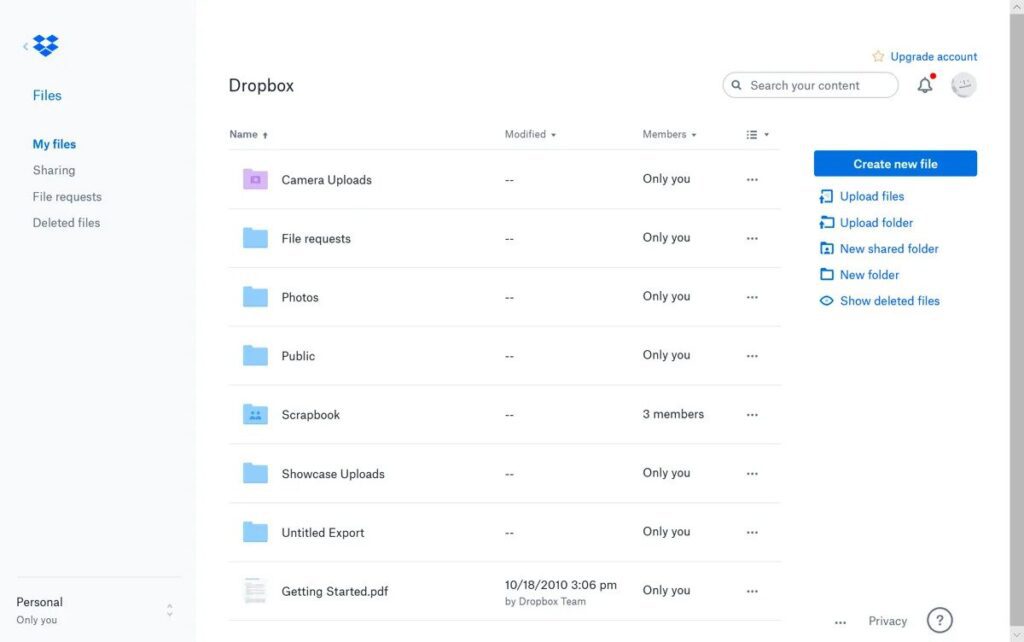 While it doesn't offer the full suite of document editing tools like Google Workspace or Microsoft 365, it integrates well with those platforms and provides infinite storage – there's practically no limit. As with any tool, we recommend exploring the specific features and pricing plans of Dropbox Business.
There are also a few key considerations you should accommodate, such as robust document editing capabilities, compatibility with existing tools and your team's overall mobility requirements.
Microsoft 365 and Google Workspace
The choice between Microsoft 365 and Google Workspace often comes down to your team's existing software preferences and needs.

If real-time collaboration, along with simultaneous editing and easy sharing is your priority, then Google Workspace can be your ideal solution. Alternatively, Microsoft 365 offers users a familiar experience for those accustomed to Microsoft Office tools and it's generally the more attractive option for larger remote enterprises with stringent security requirements.
Productivity and time management tools
It's easy to lose accountability with remote work and your team will greatly appreciate tools that assist in time management. Not only will your team stay on track, they'll have increased capability of managing their time down to the minute.
Todoist
A popular task management and to-do list app designed to help remote teams and individuals organize their work is Todoist.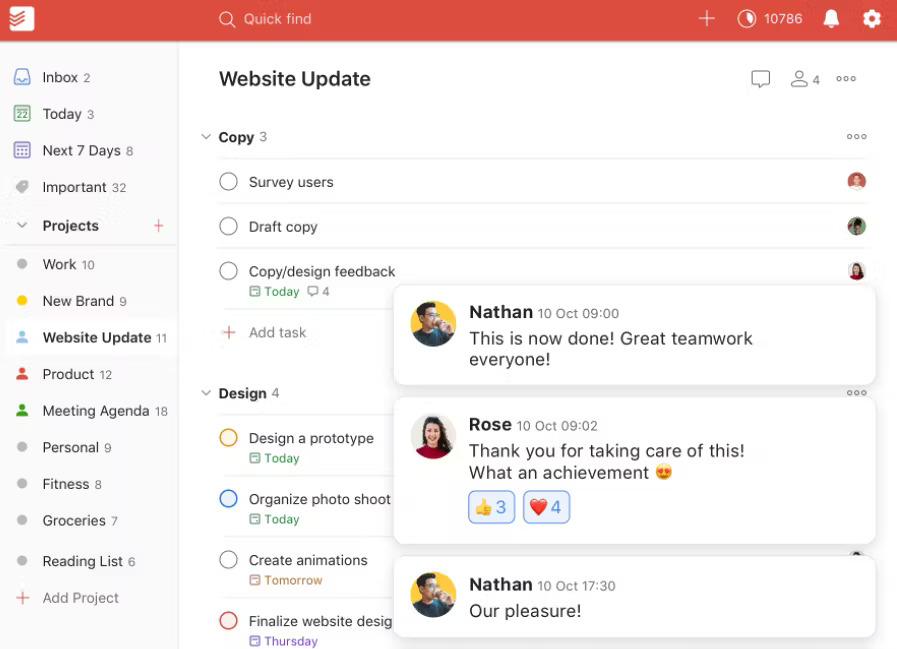 The intuitive interface excels in helping remote team members to manage their time by creating lists, setting deadlines, tracking progress and scheduling recurring tasks. It's a streamlined method for holding yourself accountable throughout the week, and there is also the option for collaborating or delegating tasks.
Todoist's free version includes most of the features a remote team will need and it's great for saving costs.
Focus@Will
One of the most interesting platforms in this list is Focus@Will.
The subscription service offers sequenced playlists of instrumental music intended to improve user's productivity – it's scientifically designed to enhance concentration.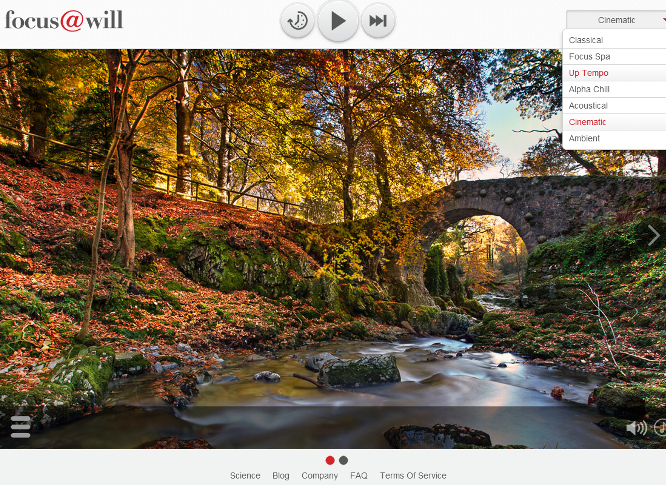 Its unique concept leverages neuroscience research that suggests specific music can help individuals enter a flow state and concentrate on their work. Remote workers commonly deal with distractions and a mix of personalized playlists, along with curated music channels is a creative manner for tackling procrastination.
Focus@Will is available on the web and mobile devices, however, there is a cost involved after the trial period.
RescueTime
This remote collaboration tool couldn't hold any truer to its name.
RescueTime is a fully automated time-tracking software that's logged up to 1.37 billion hours of screen time, so remote employees can rest assured that it's a credible tool. You'll have access to detailed reports on daily and weekly productivity, along with a nifty feature that blocks distracting websites such as YouTube etc.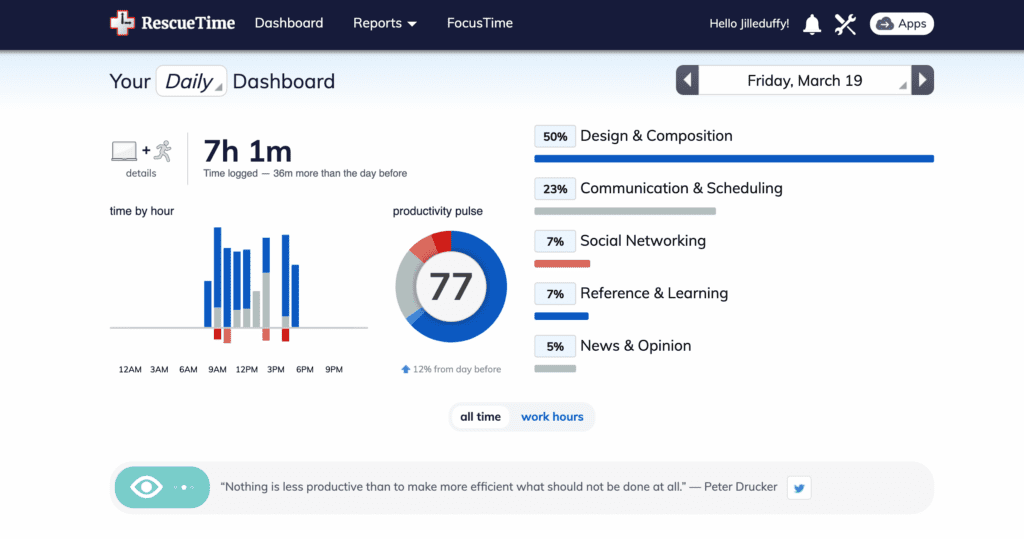 Because of RescueTime's comprehensive features such as goal-setting alerts and time tracking of certain websites, some employees may find it invasive. But from a company's perspective, there is an opportunity for identifying productivity bottlenecks.
Considerations for selecting collaboration tools
Remote companies must remember that the best collaboration tools are not just about fancy features. Your best performing tools will enable a remote team to work cohesively to overcome their physical boundaries and collectively achieve results.
There are many online collaboration tools that share similar functionalities and you're bound to find something that fits a comfortable budget. Most tools for remote teams offer trial periods and it's a golden opportunity for experimenting with what works best.